---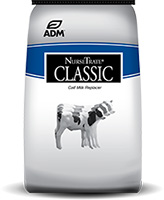 NurseTrate Classic is a superior all-milk calf milk replacer formulated to provide top-quality nutrition for traditional calf feeding programs.
20% all-milk protein and 20% fat
Includes ADM's exclusive

 

SI InsideSM

 

to help enhance calf health and growth efficiency
Selenium yeast for more bioavailable selenium which is important for immune function
Vitamin and mineral fortified to support health, vigor, sound immune system and sturdy frame, resulting in optimum growth
Non-medicated and medicated options
Expect healthy and efficient growth performance supported by a source of highly-digestible milk protein
If You Are A Sales Tax Exempt Farmer, Please Follow This Link And Fill out The online Form From Your State. It will be Submitted To Us Automatically And We Will Create A Tax Exempt Account For You, You Only Need To Fill The Form One Time. 
Calculate Shipping Costs In New Window.
Mix and Match 50 Lb bags to make 40 to 50 bag Pallets and save a lot on shipping costs!

Escrow.com Information Link here Or Email Ryan@Feedsforless.com and we will set up the escrow transaction for you fast! Just Copy The Total Calculated Cost And Click on the above BitPay or Escrow.com Links To set up Payment that way.
Escrow.Com Step by Step Guide Link
---