Regular price
$40.13 USD
Sale price
$47.06 USD
Unit price
per
Sale
Sold out
LegenDairy™ Heifer Mineral Biuret
Provides balanced mineral-vitamin (including natural-source vitamin E) supplementation formulated for the developing dairy heifer
Provides NPN (biuret and urea)
Includes unique hydroxy trace minerals (copper, zinc and manganese) and salt
0.4 lb per head daily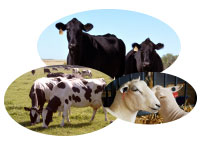 Biuret is an exclusive, cost-effective, controlled-release, non-protein nitrogen (NPN) source for ruminants. Biuret's predictable and safe rumen ammonia release pattern allows for greater formulation flexibility for both beef and dairy rations. Biuret is not hygroscopic and is superior to urea-based products for all applications where supplemental NPN is required, including free-choice minerals, blocks and tubs, range cubes, conventional rations and liquid feed applications. The unique nature of biuret makes it easy to include in ruminant diets while lowering cost of production.
Two-year-olds make up more than 40% of most high producing herds which means that first lactation heifers have a large impact on the lactating herd's performance. Heifers grown at slower rates do not reach breeding size at the desired age and produce less milk during their lifetime. ADM Animal Nutrition's Heifer Program encompasses two lines of feed products, LegenDairy™ and Fortress™, which provide a complete line-up of heifer development options with advanced ADM technologies designed to maximize heifer health and performance.


LegenDairy™ Heifer Development Program
During the transition from growing calf to first-calf heifer, it is critical to provide the right amounts and balance of nutrients to ensure top growth and reproductive performance which will lead to better overall lactation performance. LegenDairy Heifer Development products provide the nutritional platform to move heifers into the lactating herd as efficiently as possible. Heifers should consistently gain at least 1.7 lb per head daily to achieve a targeted calving weight of 1250 to 1350 lb and a body condition score of 3.25 by 22-24 months of age.
LegenDairy heifer products feature:
High-quality, plant protein sources maximize protein utilization to consistently meet the needs of growing heifers (LegenDairy Heifer Mineral products do not provide protein sources)
Multiple energy sources in LegenDairy Heifer Complete feeds support growth and development
Balanced mineral fortification provides needed base and trace minerals in amounts and ratios necessary for optimum growth, skeletal development, body processes and immune function; includes salt for electrolyte balance
Hydroxy forms of copper, zinc and manganese provides higher mineral potency, stability in feed and better absorption in the small intestine (not included in LegenDairy Heifer OTM Plus Mineral)
Inclusion of vitamins crucial for metabolism, immune function and reproduction
Natural-source vitamin E for better bioavailability compared with synthetic vitamin E; needed for protection against oxidative tissue damage and immune system function
High-quality, consistent, highly bioavailable and palatable ingredients help ensure consistent intake and efficient heifer growth and development
Pelleted to ensure consistent intake with minimal waste
For best growth of heifers, nutrient content of the diet should be appropriately balanced
Feed Location is Zip Code 17001
Cost Per Bag is $FOB (Freight Cost on Buyer) US Dollars.(use Shipping Calculator Here)
Sold By FeedsForLess.Com Direct.
Copy this Discount code GGK11WW24J6H and paste in discount code box, if you are a sales tax exempt farmer. . After the first purchase if you register we will make you sales tax exempt after we get a copy of your tax exempt form, if one is needed in your state.
Mix And Match 50 lb bags From Feedsforless.com Direct to make a 40 or 50 bag Pallet to lower the shipping cost per bag, lesser amounts are available but The $50 dollar a pallet shipping cost plus $.35 cents a loaded mile will still be charged for 5 bags or 50 bags!
Cost Per Bag is $FOB (Freight Cost on Buyer) US Dollars.
Call Us Now To Place An Order Or Ask Questions! 315-557-6066
Share
View full details